Love this post from one of my new writers, Haley. I have been gardening for a long time and it is such a joy to share it with my daughter. I know she like broccoli and peas as much as she does, because she was apart of growing them. -Stephanie 
This post could be titled: "Don't Lose It If Your Toddler Picks All the Unripe Tomatoes." (Not that I would EVER do that! Ahem.) In full disclosure, I have definitely lost it when little inquisitive hands prematurely harvested the bounty of our urban garden. Numerous vegetable beds and a chicken coop take up most of our front yard and maintaining our little urban homestead is an important family project. Most of the produce we eat comes from our garden and it is rather disappointing when after weeks of anticipation, your 2-year-old wrenches a green tomato from the vine. But, over the past three years of urban gardening (and parenthood) we've learned that there are far more important lessons than "don't pick the green tomatoes!" for our kids to learn. These lessons require them to be allowed to fully participate and, at times, make mistakes.
The Educational Benefits of Gardening
The knowledge our 3-year-old has gleaned from "helping" us in the garden truly astounds us. He is familiar with the whole process of gardening and has learned about agriculture, botany, and earth science through his efforts. He also has an improved understanding of where food comes from (and that it's not just miraculously conjured on grocery store shelves). Gardening is a delightful sensory experience for children and helping out with tasks is great practice for fine motor skill development. It's lovely when, in the middle of cooking dinner, I can ask our son to run out to harvest some green onions or fresh herbs. Not to mention that it's much easier to coax him into to eating his veggies when he grew them himself!
Tips for Making a Garden Experience Kid-Friendly
Remember that time in the garden with your children is primarily an opportunity to enjoy their company and teach them. Don't plan on accomplishing much with a small child at your feet or you're setting yourself up for frustration.
Consider it a good thing when your toddler picks and eats something. Our son even pulls up carrots, wipes them on his shirt, and eats the whole root raw. I've taught him to ask before he harvests something but he often accidentally picks things before they're ready. Instead of getting upset, try to utilize those times as an opportunity to explain how to tell if something is ripe.
Plant enough of each kind of vegetable that you can stand to lose a few. You don't want to wait weeks on a single, prized eggplant only to have it handed to you by a toddler with a bitter expression on his face and a bite taken out of the highly anticipated vegetable.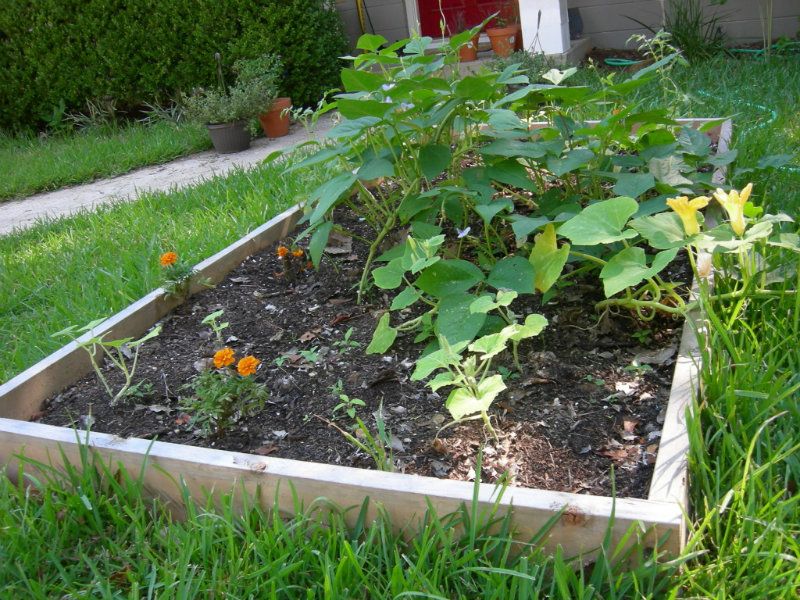 Build raised beds to make the garden boundaries easy to see and understand. Even our construction equipment obsessed toddler knows not to dig in the raised beds.
Take the time to explain what you're doing, what's growing, and whatever else they might want to know. They're listening.

Let them help. Yes, of course my three-year-old isn't actually going to make my job easier, but that's not the point. The point is that he's learning to enjoy gardening and to think of this work as something fun. And I get to enjoy the smile on his face!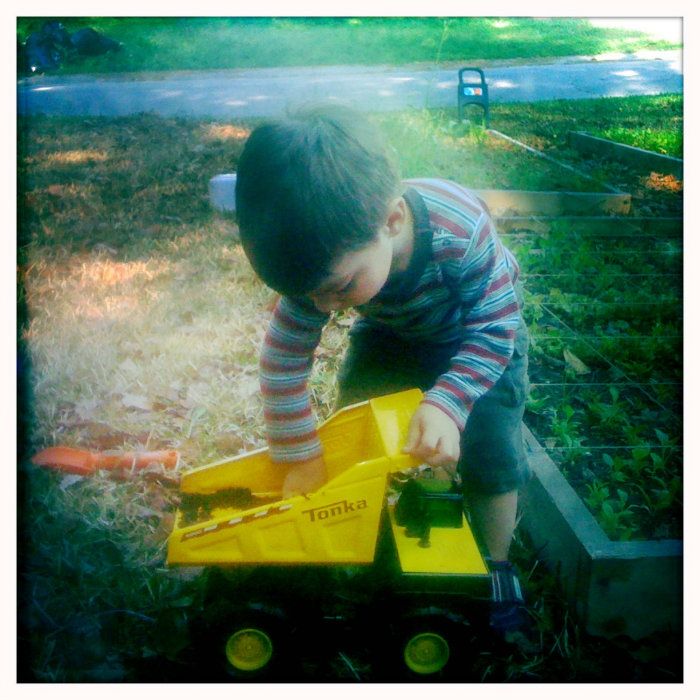 Gardening is a great way for kids to learn and develop all sorts of beneficial skills. Making the garden a welcome space that they can play and work in might open the door to some minor disasters, but the joy and knowledge they will receive from participating is well worth it. And now if our kids pick the unripe tomatoes, we just take a deep breath and make fried green tomatoes!