Oh, how I love bacon grease. And how, too, I rejoiced when I found out the bacon and bacon grease are healthy! I cook with bacon grease the most out of all oils and fats. It just makes everything taste better. And, against popular belief, bacon and bacon grease do not make you fat (sugar and grains do, just fyi), so please do your body a favor and go saute those greens in some bacon fat, just like your grandmother did. I was too young to remember too many of my Granny's southern cooking techniques, but seeing a tub of bacon grease on the counter is a distinct memory of mine. She knew what was up. I don't know how we got lost along the way, thinking canola oil was a good idea, but bacon grease is the way back home.
If you're at all familiar with the real food movement, you've probably heard the good news that there's no need to be afraid of "healthy fats" like Olive Oil, Coconut Oil, and Butter from pastured cows. And thank your lucky stars (I know I do!), that bacon contains healthy fat as well. Bacon's monounsaturated fat is partially comprised of oleic acid, also found in olive oil. In addition to other benefits, oleic acid is believed to help with high blood pressure.
There's great information out there on the many reasons you should enjoy bacon for health reasons, but today I want to share a few things with you about saving your bacon grease and how to cook with it:
Try to find bacon from pastured pigs (for happier, healthier pigs and more Vitamin D, too!). If it's not available at your grocery store, try contacting a local organic farm and buy a pig directly from the farmer. We recently bought half a pig this way and my husband found his inner Pa Ingalls when he butchered it himself and we cured our own bacon. For the next few weeks we savored the best bacon of our lives. If you get a chance to cure your own, do it! It's easy and so delicious.
Don't toss the grease! After frying up your morning bacon (and just the scent of it may prompt you to offer a quick prayer of thanksgiving for a food so delicious), save that grease.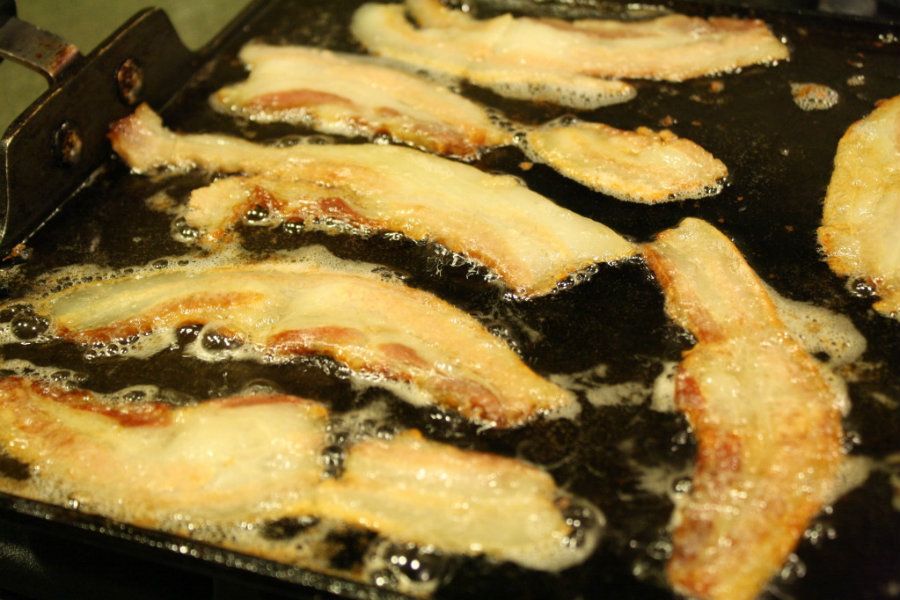 Store it. We (carefully) pour the excess grease into a ceramic mug (glass might crack if the grease is too hot). I know some folks worry about bacon grease going rancid and so they keep it in the fridge. If it makes you feel better, or if you don't want to clutter your counter with one more item, stick the excess bacon grease in the fridge. But, under normal conditions, bacon grease won't go rancid because of the kind of fat it contains. We just keep ours on the counter and we've never had a problem!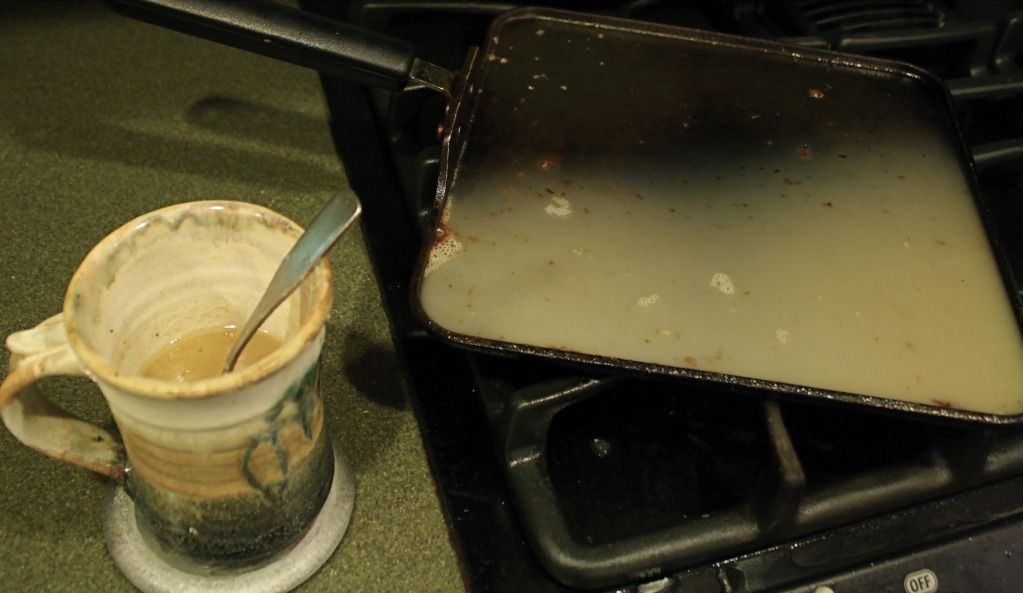 Cook with it! Here's just a few of the great ways to use it:
Eggs: If we're making bacon to eat with breakfast, after pouring most of the excess grease into the ceramic mug, we leave a little in the griddle to fry or scramble our eggs with. (If you've never eaten an egg cooked with bacon grease you are seriously missing out!)
Sauteed Veggies: Because bacon grease is so flavorful, you really don't need to use much to make your veggies taste killer. Cooking greens like kale or collards in bacon grease is especially delicious.
Fried Potatoes: We love to dice potatoes and fry them in bacon grease as a breakfast side. Yum!
Biscuits or Cornbread: You can find some great recipes that use bacon grease instead of shortening.
Shortbread cookies: Serious yum!
Grilled Cheese Sandwiches: Use your extra bacon grease instead of butter when you grill that sandwich and, holy cow! Best grilled cheese of your life, promise.
So, save that bacon grease and enjoy the heavenly aroma it makes when you cook with it!